* Fresh Peppers | Limited Availability *
Note: All Orders shipped based on availability & priority level w/ up to a 1-2 week lead time.
Please check you Inbox or Junk / Spam Folder for Confirmation Email.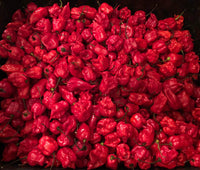 Small, Medium & Large Flat Rate Boxes of Fresh Peppers shipped via USPS Priority Mail. Peppers picked fresh and shipped Monday thru Wednesday. Local Pick-Up by Appointment Only.
Shipping Rates Now Included in Pricing:
$8 for 1 Small Flat Rate box (SFRB) 
$14 for 2-5 Small Flat Rate Boxes (SFRB) 
$14 for Medium Flat Rate Box (MFRB)
$20 for Large Flat Rate Box (LFRB)  
Shop Now
About Chattanooga Pepper Company
Chattanooga Pepper Company was founded by Matt Hill in 2019. Chattanooga Pepper Company specializes in growing Hot and Super Hot Peppers sourced from around the world. These peppers & plants are sold on a seasonal basis as Live Plants, Fresh Peppers & Dried Peppers. All products are grown in conjunction with Tilleigh Sue Farm, which is owned by Matt's Father, Hank Hill.
Please subscribe to our Newsletter below & send us an email with any questions or feedback.